Civil Litigation Associate- Riverside, CA
SEEKING CIVIL LITIGATION ASSOCIATE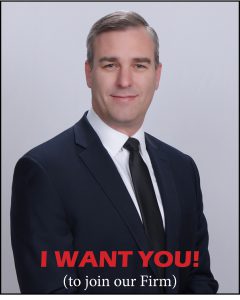 If you want to join a highly respected National law firm that has been in practice for over 55 years and is growing in California, than this is the right place for you. We are looking for an attorney licensed in California who has substantial experience in litigation. You must be an excellent writer and effective communicator. If this sounds like a good fit, than I WANT YOU TO JOIN OUR TEAM.
National law firm seeking a civil litigation attorney with 3 to 5 years of experience to defend public entity litigation in its Southern California office. Remote work is acceptable.
Attorneys joining the Firm will have opportunities to work on a variety of cases and projects, as well as participate in and handle jury/bench trials in state and federal courts, depositions, motion and discovery practice, appellate practice, and be responsible for regular client communications.
The Firm offers excellent benefits and competitive compensation commensurate with experience. This is a full-time position. Please send resume and writing sample to racho@cmda-law.com.
SEND US YOUR RESUME