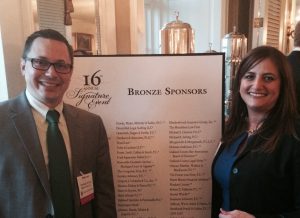 CMDA was a proud sponsor of the Oakland County Bar Foundation's 16th annual Signature Event recently held at Oakland Hills Country Club.
Proceeds from the event benefit the important work of the RESTORE Foundation, University of Detroit Mercy School of Law, and the Elementary Mock Trial Program. The Signature Event reported raising $243,000 from sponsorships alone, making the 2015 Signature Event its highest grossing event to date.
CMDA has been a sponsor of the Signature Event for many years. Attorneys Kevin Hirzel and Carla Testani enjoyed attending the event and learning more about the work of the Oakland County Bar Foundation and the many educational and legal service groups it assists.