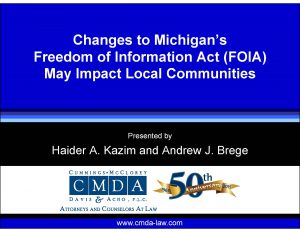 Significant changes to Michigan's Freedom of Information Act (FOIA) take effect July 1, 2015. It is important that public bodies prepare and implement the new FOIA policies and guidelines.
CMDA attorneys Haider Kazim and Andrew Brege have prepared a video that briefly explains some of the new statutory rules and outline some of the changes public bodies need to make in order to comply with FOIA and avoid civil fines and penalties.
Additionally, Recent Changes to the Freedom of Information Act May Impact Local Communities is an informative and detailed article written by Andrew Brege.
If you have any questions regarding FOIA, please contact:
Haider Kazim: (231) 922-1888 or hkazim@cmda-law.com
Andrew Brege: (616) 975-7470 or abrege@cmda-law.com